This closet staple, an item i wear the whole time! The Breton stripe shirt originated in Brittany—a French province by the sea which explains its nautical affiliation. The long-sleeved cotton garment usually has a boat neck and, traditionally, the stripes begin around the breastbone. These shirts are super comfy and better still, so versatile. They can be worn year round paired with jeans, shorts, skirts, blazers, cardigans….
This shirt is reminiscent of Coco Chanel, portrayed here by Audrey Tatou in one of my favourite movies Coco Avant Chanel which portrays her simple, but elegant personal style borrowed from traditionally male pieces. 
If you want to get your own Breton, I've found some affordable options here, here and here ($8.00!) Mine was very affordable, I found it in one of my community's laundry room drop off box and it's an original Breton top from France, why someone was getting rid of it I don't know!?! Oh well, it has served me well! Here's three of looks I've done with it recently:
with skinny jeans and flats and a silk scarf; with an Anthropologie skirt and H&M sandals and with boyfriend jeans, sunnies and sandals.
Happy Wednesday!
xxo, SSM
PS don't forget to link up to other Work it Wednesday ladies here!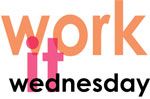 images care of google